In the Cross Hairs...
Neal Patrick
Name: Neal Patrick

Alias: "The Doctor"

Plays: Darts

Q. How long have you played darts? A. Long enough.

Q. Who do you play for? A. Penos Pub

Q. How often do you play? A. 87 times a week.

Q. How did you get started? A. I started playing darts because I had mastered nuclear physics and was looking for a change.

Q. What type of darts do you throw? A. Sharp, pointy ones.

Q. Do you have a dartboard at home? A. Yes.

Q. What's your beverage of choice? A. Coors Light, duh.

Q. What's your biggest accomplishment in darts? A. A 1 dart out (I was drunk).

Q. Do you prefer singles or doubles? A. Doubles.

Why? A. More alcohol.

Q. What dart superstitions do you have? A. I always see to it that the dart boards are directly in line with Orion.

Q. Who is your scariest opponent? A. Steve Happ. I believe that he's staring at my arse.

Q. What else can you tell about yourself? A. I believe that I'm so good not only because of my masculine frame but the simple fact that women adore me for my intelligence.

Q. What would to have added to or changed about this website? A. More pictures of me!
Well, Neal, your wish is our command! Here are some more pictures of "The Doctor" for you to gawk at and for Neal to admire!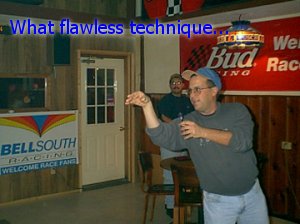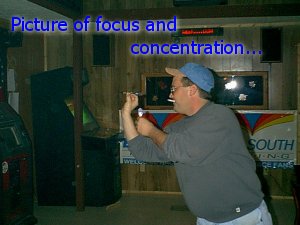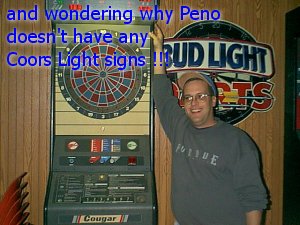 If you would like copies of these pics without the text send your request to diggersvending@netscape.net